Wow. I've never seen a documentary like this - more of an action film that's actually a true story about what is happening RIGHT NOW, late 2012, the final days of the "Great Cycle of the Mayan Calendar."
Years in the making, "2012: Shift of the Ages" is not only an inspirational antidote for the fear-mongering around 2012 misconceptions, but also completely riveting story. It follows Mayan Elder Wandering Wolf on his quest to help unite the Eagle and the Condor and bring peace and balance to the Americas. (Spoiler alert!) But first he must recover an ancient power staff which apparently has helped two presidents get elected: Evo Morales in Bolivia and Alvaro Colom in Guatemala. Mind blown.
Incredible, artful video production and musical score. Check out this early cut that I remember seeing three years ago. I highly recommend the full film, which is online for free, until - you guessed it - 12/21/2012.
You can watch the full film here, for free (for now!)
http://www.shiftoftheages.com/
More about the incredible storyline:
Wandering Wolf, Don Alejandro Cirilo Perez Oxlaj, leader of the National Mayan Council of Elders of Guatemala, Day Keeper of the Mayan Calendar, and 13th generation Quiche Mayan Spiritual Leader brought together the Continental Council of Elders & Spiritual Guides of the Americas. According to the story, he leant the staff of power to the host of what would be the 4th gathering of the Council, an Elder from Bolivia. Apparently that Elder was unable to organize the gathering and later refused to return the staff, instead declaring it for his own. A major plotline of this documentary is about Wandering Wolf's journey to recover the staff, which can be seen in this picture, here being used by the Elder who took it, for the Inauguration of Bolivian President Evo Morales!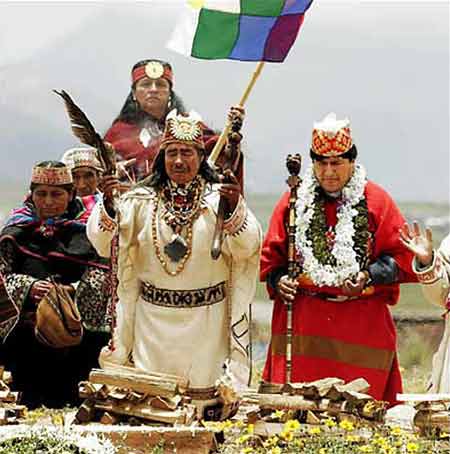 A 2006
article from The Nation
describing a "Staff of Power" during the inauguration:
"Garbed in a red ceremonial robe and holding the staff of power, Evo Morales stood in a portal cut from a single block of stone ten feet high, eleven feet wide, estimated to weigh ten tons."
Also, as a point of interest, a random
forum
from the same time (January 2006) reads:
At Tihuanaco , Bolivia, Evo Morales undergoes Mayan ritual ceremony that has not taken place in over 500 years. He is handed the staff of power over the Earth and power over the spirit.
The whole thing is an incredible story, and a beautiful film.
And its certainly wonderful time to be alive.
As a slogan for "Shift of the Ages" goes:
"2012: It's About Time"